On Exhibit
Contact of Cultures, 1609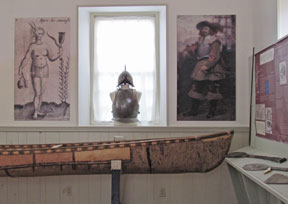 On display in LCMM's historic 1818 Stone Schoolhouse, this exhibit reflects the maritime skills and traditions of the region's Native people and the pivotal expedition of Samuel de Champlain in 1609. Lake Champlain's first navigators are represented by a dugout canoe, full sized and miniature birch bark canoes, and some of the tools used to make them, an array of canoe paddles, as well as traditional fishing net, hooks, and sinkers. Then meet Samuel de Champlain, whose explorations (including the 1609 expedition to Lake Champlain) and personal diplomacy helped shape the world of today. Discover the skillful and tenacious man behind the myth, and some of the region's Native American people revealed in Champlain's writings and drawings.
Abenaki historian Frederick M. Wiseman, Ph. D. worked with his students and with a professional armorer to provide replicas of the armor, helmets, and other equipment used on the Champlain expedition.
El-nu Abenaki Chief Roger Longtoe and Vera Longtoe created replicas of fishing lures, hooks, sinkers, and net used by Native people in the seventeenth century. Live demonstrations are presented at LCMM each year at the Native American Encampment.
Lake Champlain Maritime Museum
4472 Basin Harbor Rd., Vergennes, VT 05491
Phone: (802) 475-2022 Fax: (802) 475-2953
Email:info@lcmm.org